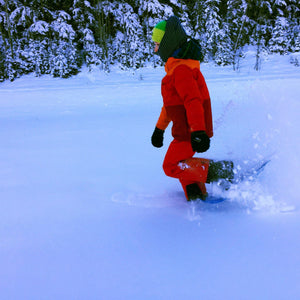 How To Choose Kids Snowshoes?
Have you ever had one of those moments in your life when you remember why you made a certain choice?
I had one of those "aha" moments this past weekend. We had loaned some of our snowshoes to a friend that was going away on a family snowshoe trip to the mountains. Nothing to worry about, we have some other snowshoes from another company that we had used before our whole family started using the MSR brand of snowshoes. They were just collecting dust, and we really liked them before, right? They had a cute little bear on them, the bindings were a ratchet-style, they would be fine? 
We headed out! My daughter was super excited to be heading out with her bear snowshoes, into the nice fresh snow. Ratchet binding worked ok, so we ready to go. My son wearing the MSR Shift kids snowshoes was off and running through the freshly falling snow with my daughter right behind him. It all seemed like a great start. Then I saw my daughter stumbling a bit, then a bit more with frustration starting to creep in.
 The bear snowshoes have an active binding on them. An active binding springs the snowshoe back to the bottom of the boot. This spring back motion does help, a little, for stepping over things, such as logs on the trail and for backing up. The problem with this type of snowshoe is, as the tail springs back up, it flips snow all over your back, and with the tail coming up, the front of the snowshoe is angled back down flat. So what is the big deal with that you ask? When the front of the snowshoe flattens out as you are taking your next step forward, the front of the snowshoe becomes a big scoop digging into the snow, making it harder to step and also causing a stumble as it digs into the snow.
This is exactly what I was watching my daughter struggle with. My son, on the other hand wearing the MSR Shift snowshoes, that has a free binding on them, meaning the tail stays low shedding the unwanted snow off, but most importantly, the front of the snowshoe is up and ready to step up onto the snow with your next stride.
The one other feature that makes the MSR Snowshoes stand out above other brands is the traction bars. In an ideal world, we would always be snowshoeing through perfect powder, but the reality is, it sometimes is icy! Most other snowshoes use a tube frame around the edge of their snowshoes. The tube provides no traction. Your traction is from the crampon built on too the bottom of your binding. If you are traversing an icy sidehill, or do not have proper weight over your crampon, you lose traction! MSR integrates a traction bar or adds traction to the external frame which improves your grip immensely. Tube type snowshoes can cause kids to slip on an icy section, raising the frustration ratio and has the potential for injury!
 As I am watching my son gallop around, and my daughter losing her zest for snowshoeing, I remember this was why we all fell in love with our MSR snowshoes as a family. They are easy, simple and work great period!
The one big complaint about snowshoeing with kids is the high frustration to fun ratio. As I have seen today with my kids, the type of snowshoe you use can make a huge difference!
Let's hope we get our regular snowshoes back soon, and I guess we will be XC-skiing tomorrow! :)
Please leave any comments, advice or questions and check out our selection of kids and adult snowshoes! 
Thanks and have a great day out snowshoeing with your kids!
Phil :)
---
2 comments